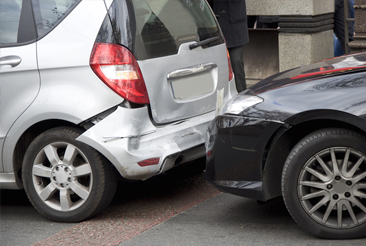 If you've experienced a minor bump with another driver, you may be tempted to settle the costs privately without getting the insurance providers involved. But is this a good option?
Drivers must have valid insurance which covers you in the event of damage or injury.
But when it comes to a minor scratch or prang, motorists may decide it's not worth going through the insurance companies. Instead of claiming through the insurer, the parties could agree to handle the issue privately.
Ian Crowder of The AA, says there's no reason why you shouldn't go private. "Lots of people do for minor damage and there are plenty of cases where a minor collision involving little more than a scratch results in the driver and the third party agreeing to exchange details and get quotes, and, if it is less than say £500, it can be worth going down that route."
However, the first and most important point to note is that even if you decide not to claim through your insurer, it is a condition of the car insurance that you tell your provider if you're involved in an accident – whether it is your fault or not.
Kevin Pratt, consumer affairs expert at MoneySuperMarket, says: "It boils down to this: if you don't tell your insurer about an accident, you run the risk of voiding your cover and not having a future claim paid out."
Crowder gives this example: "When an insurer organises repair of your car, you know it will be done properly using new parts, it will be guaranteed and it will cover any unseen damage.
"If someone goes into the back of you, a look at your car shows a broken number plate and a scratch on the paintwork so your local garage says they can have it fixed for a hundred quid. But they may not notice or may ignore that the bumper mounting bracket was broken.
"If two years later you happen to be involved in another collision and the bumper comes off and causes significant damage to the other car, and it turns out that the original damage is spotted, you could end up having to answer awkward questions from your insurer."
Further, with drivers receiving personal injury calls from claims management companies saying you could be owed thousands of pounds, an at fault driver could receive contact from their insurer asking why you never reported the collision after they've received a claim for whiplash suffered by the other driver.
The advantages of going private
One of the main advantages of going down the private route is that it won't affect your no claims discount. Pratt says: "You can pay for the repairs yourself, or simply leave minor superficial scratches unattended. Some people prefer to meet the costs themselves so as not to jeopardise their no claims discount."
However, drivers may have protected no claims bonus then they are covered.
An additional advantage of going private is that you won't need to pay the excess on your insurance. When you make a claim, you have to pay the policy excess, which can be £200 or more. Some people may have opted for a high voluntary excess to reduce their premium so a claim can be expensive.
Pratt explains: "If you had a £300 excess and a claim worth £500, you'd only receive £200. That would make it much more likely that your loss of no claims discount would outweigh what you received in a claims payment.
"If you're not at fault, you have to pursue the other party's insurer to recover the excess, not your own. Your insurer will provide you with their contact details, and you can contact them with your request. If they are slow or refuse to pay, you can trigger your legal expenses cover – if you have it as an add-on to your main policy, or if you have standalone legal expenses cover."
The disadvantages of going private
A major drawback of handling the claim privately is the cost. Pratt says people need to think carefully before going down the self-funding route, especially when you're at fault, as you need to meet another person's repair bill.
"These costs can quickly mount up, and it can be important to have the support of your insurance company. Taking the DIY route, given that you've got someone else's damage to pay for if you were at fault, it may simply be more trouble than it's worth."
As well as the support of your insurer, you need to consider whether you need a loan car – which most insurers provide, according to Crowder – while yours is being repaired.
Drivers may think that by not telling their insurer or lodging a claim that their premiums won't increase at renewal. But Comparethemarket.com says if you have an accident at all, even if you don't claim, your insurer will probably put up your premium next year.
Crowder says: "Some may take no notice short of recording it, and your premium stays the same but the majority will up your premium by anything from less than 5% to over 25%. This is because statistically, those who make no-fault claims are more likely to go on to make fault claims."
Pratt adds: "This can indeed be the case, as insurers use statistics which suggest that those who've been involved in one accident will be involved in another."
This is why it's important for people to shop around at renewal to find an insurer which can give you the best quote after taking your circumstances into account.
"A 'new' insurer will often be prepared to undercut an 'existing' one", Pratt says. However, he warns that even if you handle the claim privately, when it comes to renewal, you will be asked if you've had any accidents, so you need to disclose them all, regardless of how they were handled.